Print
Buy Dividend Stocks on the Dips
May 06, 2015 – by Richard Band
We've been waiting for this! For the past three months, I've been telling you that Treasury and other high-grade bond yields were too low — that the deflation talk was overdone.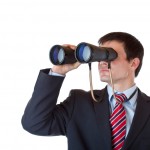 Source: ©iStock.com/zigarrenschachtel
Now, finally, it seems Mr. Market is coming around to our point of view. The benchmark 10-year Treasury yield closed yesterday at 2.17%, more than 50 basis points above its January low.
Several factors are driving yields upward. According to Markit's survey of purchasing managers, Europe's manufacturing sector continued to expand in April (52), though at a slightly slower pace than in March (52.2). Quantitative easing appears to be lifting Europe's economy out of the doldrums.
At home, the Institute for Supply Management report from yesterday shared its April poll of purchasing managers in the service sector. The number jumped to a hot 57.8 (anything above 50 indicates expansion), well above economists' expectations and comfortably above last month's 56.5 reading.
Finally, and perhaps most crucially, West Texas crude oil settled above $60 a barrel yesterday for the first time since mid-December. I've repeatedly advised you to watch for a rebound in oil prices as evidence that the U.S. economy was regaining momentum. It's happening!
So, higher bond yields and higher yields on interest-sensitive equities should come as no surprise.
Fortunately, the uptick in rates is almost certain to prove self-limiting. There's simply too much idle productive capacity (human as well as tangible resources) in the world economy to permit dramatically higher yields in 2015.
Still, it will probably take another month or two for bond yields to find a ceiling. In the interim, we'll be buying interest-sensitive assets but gradually and methodically, on significant price concessions. This is a time to be averaging in, not barging in.
One such price aberration has just taken place in South Jersey Industries Inc (NYSE:SJI), a well-managed gas utility with an excellent record of long-term dividend growth. From its peak in late December, SJI has skidded more than 16% — a clear overreaction to rising bond yields.
Accordingly, I'm bringing SJI back for its current yield of 3.9%.
To make room for SJI, I'll shift Merck & Co., Inc. (NYSE:MRK) to "hold" ranking — don't add new money. Like MRK, SJI normally pays dividends during the first month of each calendar quarter.
In the broader stock market, the bond hiccup is already triggering the heightened volatility I predicted. However, I don't foresee a recession/bear market emerging from this minor turbulence.
More likely, we'll get a 3%-6% pullback in the headline U.S. equity indices during May or June, before the S&P 500 launches an assault on the 2,150 area in July. When and if our technical gauges reveal more serious weaknesses in the market's health than we've observed so far, I'm prepared to resort to hedging tactics (put options, inverse exchange-traded funs, etc.).
To date, though, the market's technical problems have consistently turned out to be mild and short-lived. As long as that remains the case, we'll be using dips as opportunities to buy more of our favorite stocks and funds.
Richard Band's Profitable Investing advisory service helps retirement savers outperform the market without losing a minute of sleep along the way. His straightforward style and low-risk value approach has won nine Best Financial Advisory awards from the Specialized Information Publishers Foundation.
More From InvestorPlace