Print
Buy Walgreens Boots Alliance Inc (WBA) Stock and Its Chunk of Rite Aid
July 26, 2017 – by Richard Band
Walgreens Boots Alliance Inc (NASDAQ:WBA) is more than just your neighborhood drugstore. It has operations in 25 countries and employs more than 400,000 people. WBA stock is down 4.6% so far this year.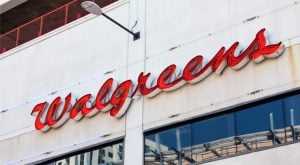 Source: Shutterstock
Beyond its retail operations lies a business that is one of the top growth industries for the next few decades — its global wholesale and pharmaceutical distribution networks. It has nearly 400 distribution centers that work with more than 230,000 pharmacies, doctors, health centers and hospitals in some 20-plus countries.
While its recent efforts to add ailing drugstore chain Rite Aid Corporation (NYSE:RAD) to its list of assets may not have turned out exactly like WBA had hoped, but the spirit of the deal is still alive.
Since WBA can't buy RAD outright, it's revamping its strategy and buying up a large number of Rite Aid stores instead. The transaction RAD a much-needed cash injection and allows Walgreens to enter some markets without the costs, time horizons, and general hassle of building new stores.
Still, WBA is doing fine on its own, regardless of what comes from the RAD situation. For example, it recently hiked its dividend 6.7%, raising it for the 42nd consecutive year.
Fear of Amazon is Overblown
This kind of solid, consistent growth is why WBA is in my Profitable Investing World-Class Franchises portfolio. Its solid dividend and reliable growth makes it a great foundation stock. And it's especially attractive in this kind of market, where each quarter's growth numbers cause many to hold their breath and keep their fingers crossed.
WBA stock holders can breathe easy.
And given its position in the drug distribution and wholesale business, its best days are ahead.
What's more, between the RAD news and the broad fear that Amazon.com Inc (NASDAQ:AMZN) will come after pharmacies in the near future, the stock has been treading water so far this year.
But the AMZN fear is overblown. WBA is very well positioned to compete with any near-term challenges that AMZN presents and Amazon is very much a retail-focused company, so its prescription wholesale and distribution business is not exactly a focused target.
What's more, given AMZN's recent bid for Whole Foods Market, Inc. (NASDAQ:WFM), its next big effort looks to be more food focused for now.
WBA Stock's "Graying" Play
WBA is in prime position to capitalize on the graying trend not only in the U.S. but Europe as well. Boots is a major drugstore chain in the United Kingdom and has a strong presence in Europe. Reliable long-term growth in mature markets is a very encouraging sign, and that's what we're seeing from the recent earnings.
It beat both on revenue and earnings in Q2, and has even raised its bottom end estimates for the rest of the year. WBA stock will catch up in short order.
Richard Band's Profitable Investing advisory service helps retirement savers outperform the market without losing a minute of sleep along the way. His straightforward style and low-risk value approach has won seven Best Financial Advisory awards from the Newsletter and Electronic Publishers Foundation.